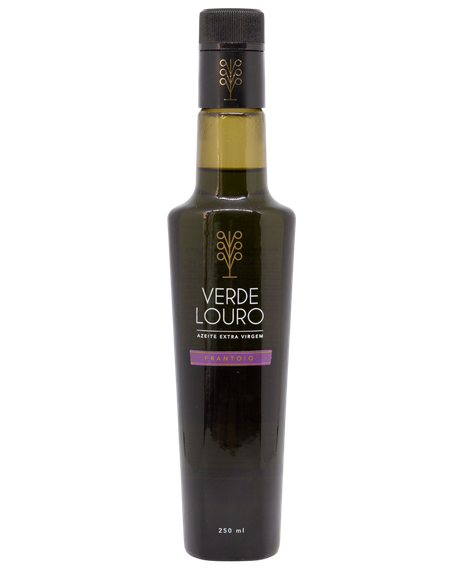 The focus is on Verde Louro Azeites (Rio Grande do Sul, Brazil), the reigning international champion in the EVO IOOC Italy 2023.
The prize winning EVOO: Frantoio - Verde Louro Azeites, Frantoio olive variety.
At Verde Louro Azeites, the motto is "The olive tree is certainly the most precious of heaven's gifts".
On the Mato Grande farm in Canguçu, special olive trees, perfectly adapted to the climate of southern Brazil, have been growing under the pampas sun since 2011.
The region, with an ideal subtropical climate and low rainfall throughout the year, is an ideal place for growing high-quality olives, thanks to the special properties of the soil. In this exclusive location, which is given lavish care and attention, a dream is dreamt and cherished, namely that of producing a Brazilian extra virgin olive oil boasting the quality of the best EVOOs in the world.
A record year, that of 2023, which doubled the previous year's production to 320 tonnes, as well as producing EVOOs of top quality.
After a first harvest in 2016, already in 2017 Arbosana EVOO was the Best International Monovarietal for the Southern Hemisphere at the D-IOOC (now the EVO IOOC Italy); their Arbequina variety received the prestigious Best International Monovarietal for the Southern Hemisphere anew in 2021.
Indeed, dreams often come true. In fact, among the many awards that the Verde Louro Azeites have won in recent years in major international competitions, the Best International award EVOO Southern Hemisphere of the EVO IOOC Italy 2023, of which it is the reigning champion, exceeds in importance, as well as being the Best Extra Virgin Olive Oil of the Southern Hemisphere to sweep in 2024.
Company profile
Verde Louro Azeites Ltda 
Office: Brazil - Canguçu
Web: www.verdelouroazeites.com.br
Award-winning product: Frantoio - Verde Louro Azeites
Olive varieties: Frantoio
Olive harvesting method: Mechanized (trunk shakers and vibrators)
Olive mill owned by producer: Yes
Olive oil extraction process: Continuous cycle (3 phases)