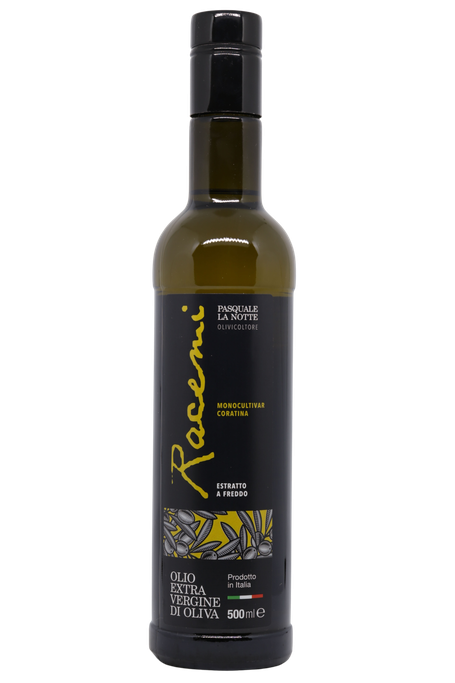 The EVOO and its producer: Pasquale La Notte.
Today's spotlights are shone on the Azienda Agricola of General Pasquale La Notte (Apulia, Italy), the reigning international champion in the EVO IOOC Italy 2023.
The award-winning EVOO: RACEMI, Coratina olive variety.
At Pasquale La Notte farm, the slogan is "Passion and love of the "queen" of the cultivars".
Olive tree in "Racemi" was the first name given in 1883 to the Coratina cultivar, a name with which Pasquale La Notte wanted to honour the queen of international varieties.
Pasquale, who is descended from farming families, has grown love of nature, agriculture and olive tree from an early age.
After his military career, he decided to dedicate himself exclusively to the cultivation and care of his family's olive groves and the production of a superior quality extra virgin olive oil.
A staunch supporter of the "Coratina" variety, he has recurrently lavished praise on and made known the organoleptic qualities of his EVOO throughout Italy and abroad.
The General still has a passion, love and daily attention to his centuries-old plants in the Trani countryside by pruning them annually, ploughing and fertilising them appropriately, irrigating them moderately and constantly in order to avoid water shortages and to meet their daily intake of sap and nutrients.
Pasquale La Notte's farm has received numerous awards in recent years, in recognition of its devoted participation in the best national and international oil competitions. These include the prestigious Best International award EVOO Northern Hemisphere in the EVO IOOC Italy 2023, of which it is the reigning champion, as well as being the very best Extra Virgin Olive Oil from the Northern Hemisphere to beat in the year 2024.
Company profile
Pasquale La Notte
Office: Italy - Trani
Web: www.olioracemi.it
Award-winning product: Olio extravergine di oliva RACEMI
Olive varieties: Coratina.
Olive harvesting method: Mechanized (trunk shakers and vibrators)
Olive mill owned by producer: No
Olive oil extraction process: Continuous cycle (2 phases)